Zion National Park 2006
(West Rim and beyond)
The morning begins with some sore muscles and maybe a slight hangover but certainly the promise of The West Rim Trail and the knowledge that today's trek should only be about 10 miles and pretty flat. Plus the belief that our surroundings will give us energy and help us forget about any minor aches and pains. And that could not have been more true...
Plus I believe that one member of our party ended a multi-day drought by spending a few minutes in the facilities. So a new bounce in the step, so to speak.
We start out in Horse Pasture Plateau, which is pretty level, and the trail is packed dirt. This area includes Potato Hollow, which is normally grassy but there is little water this year.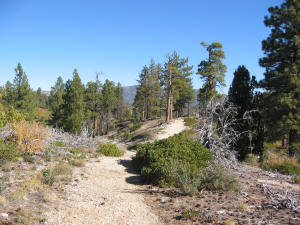 Paul on the trail
The area is very dry, in fact we are loaded down with water because there will be little or none between last night's camp and tonight's camp. There is one spring near the trail but some other campers told us it was dry. Also, a little farther south we enter an area that has been hit with a bad few years of fire damage. But 4 or 5 miles in we see Great West Canyon.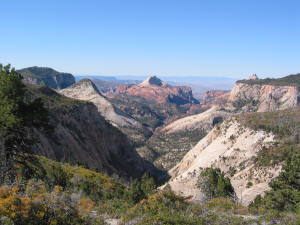 South Guardian Angel in the center
About 9 miles and 5 hours later we locate our home for the night campsite #2. And only a few hundred yards away is the last place to get water until the Virgin River tomorrow afternoon. And to call this water a trickle is just positive thinking.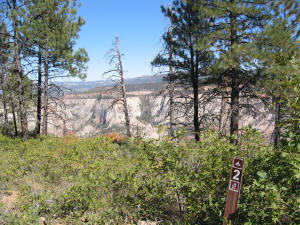 the view from campsite #2
The cold that I think I picked up on the plane has now blossomed to include a fever. So it is 60 degrees out and I'm shivering. thankfully I have some vodka leftover from last night.
Tomorrow we will lose 3000 ft of elevation in about 5 miles. I may put on a clean shirt also. It should be a great day!