Seattle - home of Jimi

We had to get back to Seattle because we had a hotel reservation at a fine inn. I think it was under $70/night. And in a pretty shady part of town. But it had a shower, something none of us had seen for over a week. We could not decide where to eat, so we headed to a place that someone had recommended called 13 Coins. It was near the airport and we knew we could find that. It was a pretty good place for grub and the drinks were just the way I like 'em, cold. We got a little carried away, I think the tab must have been over $150 for the three of us. We then sat around and drank some beer and despite my warnings Paul sat and watched Troy. Our flight out was the following morning.
Then to add a little morbid touch to our vacation, we decided to visit Jimi Hendrix's gravesite in Renton on our way to the airport.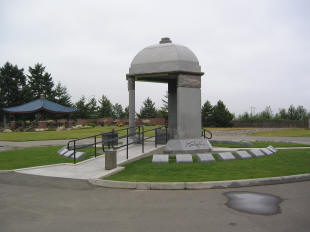 no idea what that memorial was in the background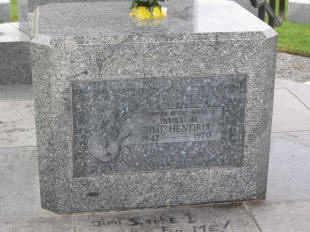 I was surprised that we saw no hippies here, maybe too early in the day. But a bunch of them had been to the memorial.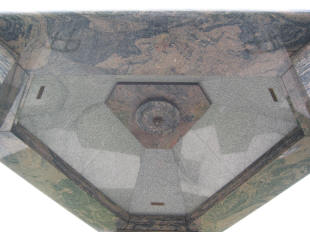 the ceiling
other family members have been moved there also
After that, we visited REI for the 3rd time and then went to the airport. At SEA airport, Delta now has the normal queue for people to stand in so they can get to the kiosk to print their boarding passes and they have added a pre-queue. Passengers stand in this one until a Delta employee decides that you have waited in that line enough and you can walk 30 feet and stand in the real line and eventually use the kiosks. Very efficient. Then during a long plane ride home, our plane has unknown problems, Delta manages to lose some of our luggage and they get us home around midnight. I wrote Delta a letter explaining my disappointment with my trip, which they ignored. Maybe I should stay locked in my house for a week for my next vacation. Nah, hopefully Glacier National Park will help me out with a permit next year.