North Cascades/Olympic National Park, Summer 2005

First morning in North Cascades National Park! (Actually a mile from the park border) Pretty amazing to wake up to. Because we arrived at SEA-TAC airport late, got our spacious Pontiac G6, and then sat on I-5 for hours in rush hour traffic, we hiked the 3.7 miles to get to this campsite in the dark, and slipped into our sleeping bags a little after midnight, skipping dinner. But we survived our first day of "vacation," a terrible cross-country flight, 4 hours of Seattle-rush-hour traffic, closed permit office, an unfamiliar 3+ mile night hike under 40-lb packs, no food between lunch and midnight, setting up camp in the dark. And all of this in a 21+ hour day. Sweet!
So we did not get our first view of the park until early the next morning.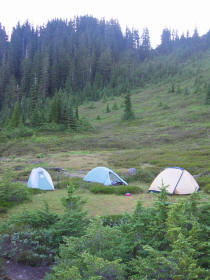 first morning again. just before the black flies came out. So let's hit the trail!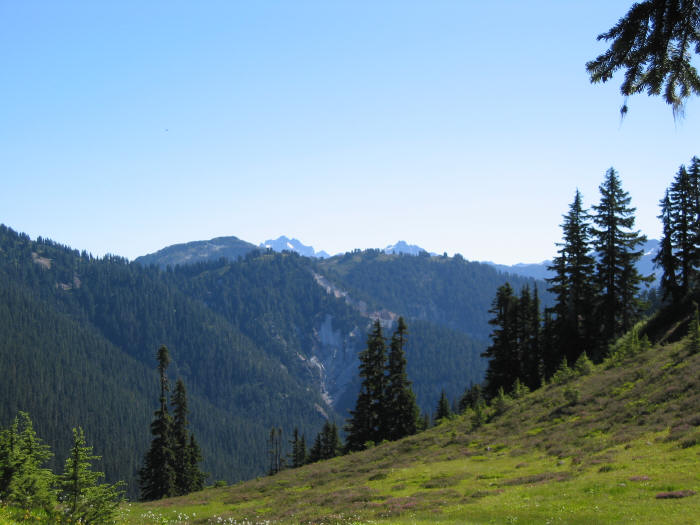 view near Hannegen Pass, still not in the national park yet.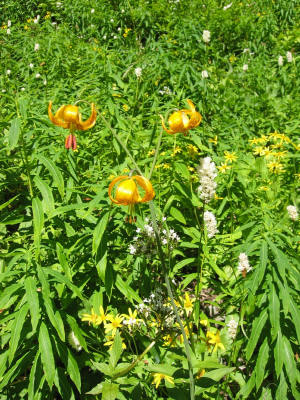 Quick history of the trip planning:
Three of us tried to get permits to backpack in Glacier National Park this summer. That failed miserably. So we searched for other areas that did not require advance permits and came up with North Cascades National Park and the surrounding wilderness and national forest areas. The Olympic National Park & Mt Rainier side trips were unplanned & added at the very last minute.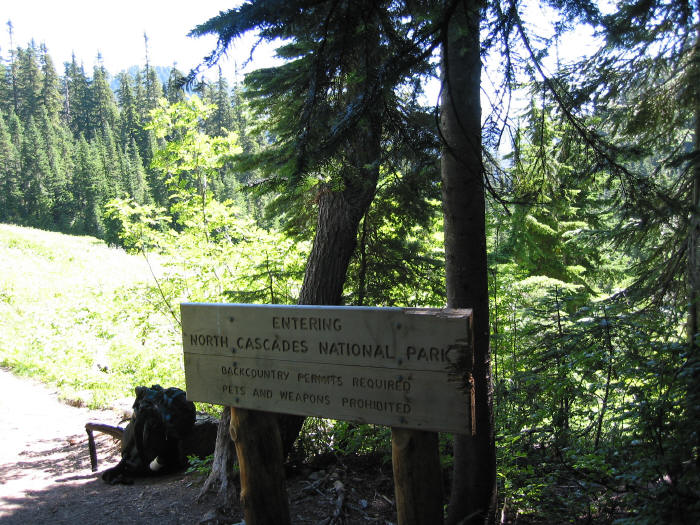 Damn, no pets or weapons! then what are the permits for?

on the way to Copper Ridge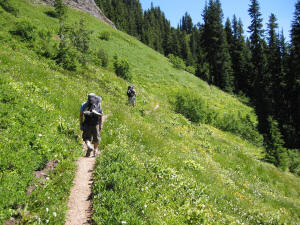 lotsa meadows at the beginning of the trip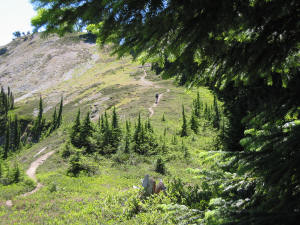 the trail to the top of Copper Ridge
these were our views for our lunch break on the edge of Copper Ridge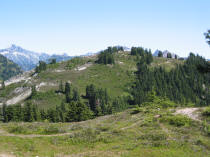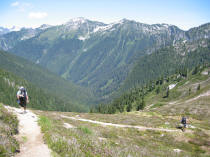 more pics of the upcoming trail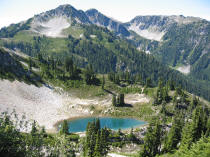 Egg Lake, way down there, but we need water. 300' down then back up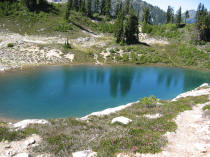 more like Egg Pond. couldn't have been more than a couple feet deep
there are 3 campsites hidden down there and they are very popular. we stopped to get water and moved on.
These next 2 photos show the route to Copper Lookout. Look carefully on top of the highest peak and you'll see a lookout tower. That would be our next stop. From where these photos were taken, we descended about 300' and then climbed 1100' to get to the tower. That'll get the heart pumping.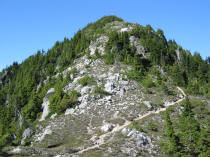 here is the lookout tower again, along with the trail up
And the view to the south from the top. I think Eric is in that group on the plateau there.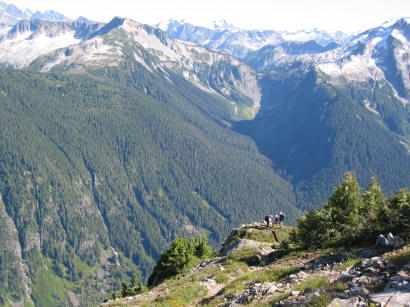 The lookout tower, at 6260', had lightning rods all over it and each corner was grounded with 1/4 copper in 2 or 3 different places. It was also bolted to the ground at all four corners. Probably not a place to be in a spring storm. But the rangers stayed there for 10-day spans in the summer.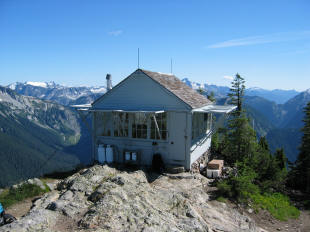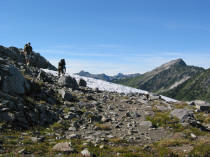 a patch of ice behind the tower
Now we had to descend about 500' to get to a place to camp for the evening.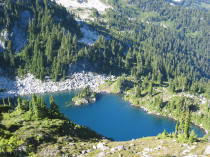 Copper Lake. We camped near the peninsula in the center of the photo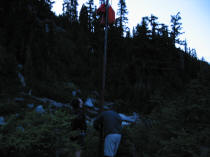 trying to keep our food away from the bears
Almost lost our campsite to a guy and his son that showed up around 9pm. They had a reservation for the site but the ranger we spoke to had heard a report that the pair with the reservation probably had turned back. After telling us that our reservation for the 4th night was not available and helping us find another place to sleep, he had advised us to hang around until 7:30 or so and if no one arrived, then likely no one was coming. So we decided to try our luck and see if they actually showed up. And around 9pm they showed up. Luckily for us some other campers in another site let them camp near them so we did not have to move all of our crap after dark. a heartfelt thanks to those campers. And a "I'd rather not" to the old guy that wanted to see us move our gear that night. That knot in my stomach while trying to find a place to camp on the side of a ridge well after dark was very unappealing.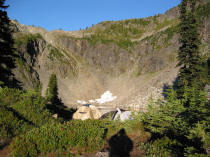 6am and all is well at our campsite. Heather everywhere. Today we would get introduced the black fly population of the park.
a view of Copper Lake in the morning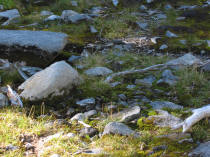 a mouse gathering breakfast in the center of the photo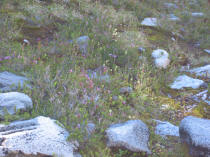 again, sitting on a rock this time
if you cannot see the rodent click here & here for the cropped photos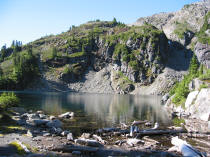 the view of Copper Lake from our campsite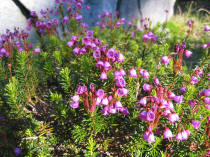 heather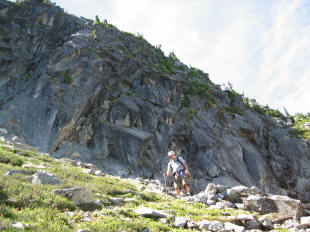 Eric looks a little tired
Not many photos from this day, some early before we hit the trees and then later at the bottom. The hike started with a little uphill and then was a lot of talus and then 200' switchbacks down into the Chilliwack Valley. And long stretches of the trail were closely watched by black flies. If you even slowed your pace they would attack you without mercy. The final portion being about a 3-mile, 3400' descent. Tough on the knees, ask Eric. But nothing that a hand full of Advil and a shot of Scotch can't cure. After the big downhill, then crossing a creek and a river were the last obstacles before Indian Creek camp.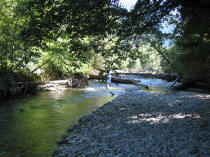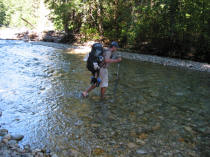 first crossing, pretty shallow, but cold & swift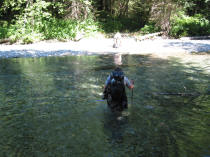 second crossing, Chilliwack River, much deeper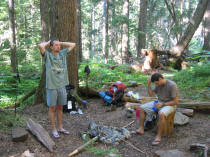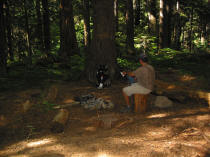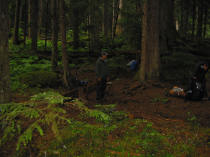 first to arrive, so we get the choice campsite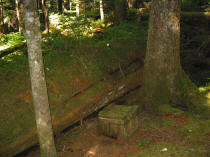 the toilet, with a giant tree beside it for privacy
I was fortunate enough to visit this one in the rain, now that's camping !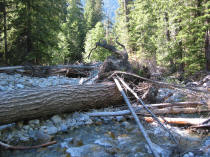 Indian Creek, must've been a rough winter
At 3:15 in the morning we were introduced to what a 10% chance of rain means in Washington. It started raining and stopped after lunch. So everyone got to pack up their gear in the rain and put on their raingear for the hike. I poured water out of my boots at least 3 times that morning.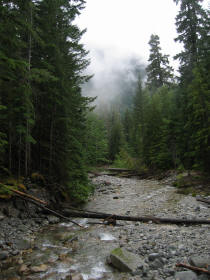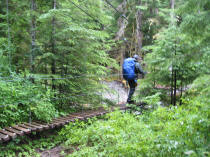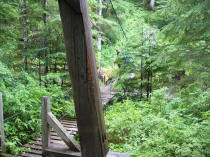 crossing Indian Creek in the AM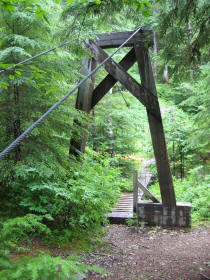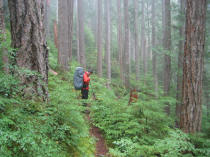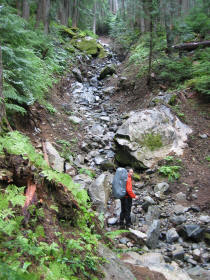 me sporting the latest in raingear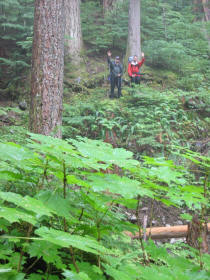 Gomer says hey!
We hiked in an evergreen forest most of the day, up the Chilliwack River valley. All in all a very easy day, but not much to look at either. A few dozen small water crossings were required at the end of the day.
once again, we're first to the campsites, so we get a nice area right by the old river. this is the view from the campsite.
There were fallen trees everywhere and every few minutes you'd hear one pop that was still standing. A very dangerous place to camp, I am surprised that the rangers had not shut this area down for camping.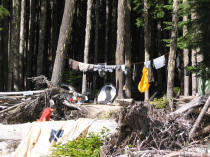 from the river.
we had a lot of wet gear that we tried to get dry in the little breeze and sunlight that we could find.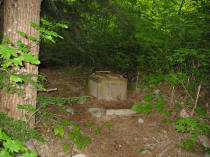 there is a shitter here too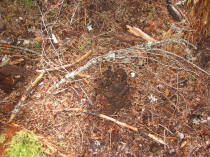 but the bears shit anywhere they like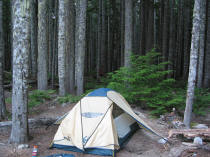 my home for the night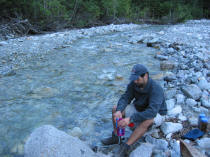 Paul "making water"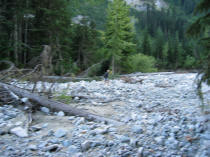 after dark we saw what we think was a bigfoot!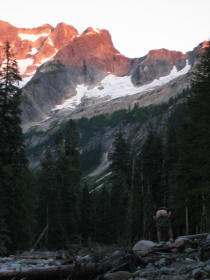 and a full moon! what a wonderful trip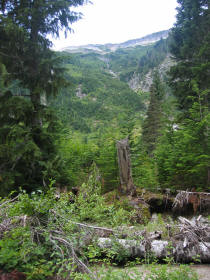 during the night we heard trees snapping and rocks/boulders breaking loose and tumbling down the wall behind us. if not for the consumption of hard liquor we'd have probably been concerned.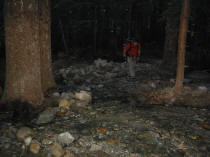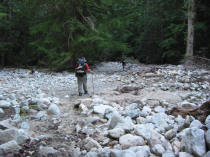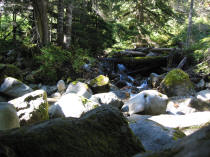 and we had to cross the creek again to get back out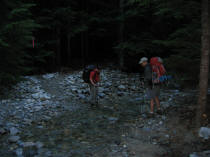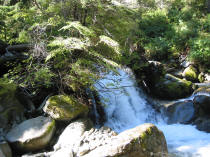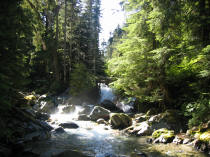 a small waterfall early near the junction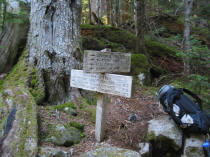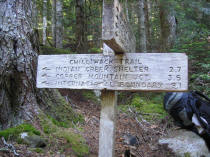 and only 9 miles to Canada and cheap meds
the first few miles were more bridge than trail
about lunchtime we got to ride the cablecar across the Chilliwack River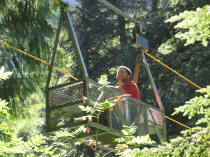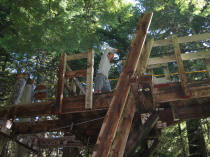 it looks like I changed shirts today too.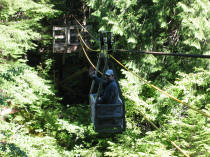 there's not much sexier than a good looking man in a cablecar...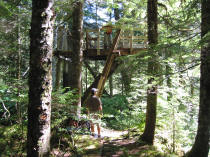 the northern platform.
this made me realize one thing that North Carolina is lacking - cablecars
now there is more uphill on our way past US Cabin camp to Copper Creek camp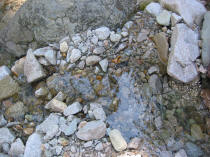 garbage at our lunch spot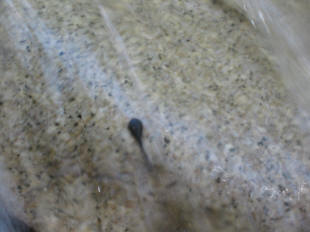 a fish maybe, they clung to the rocks and moved upstream ?
We were to camp here at Copper Creek Camp, but we made it there by lunch, so we decided to just stop for a break and then move on. BTW, the black flies were vicious here! Not a bad set of campsites though.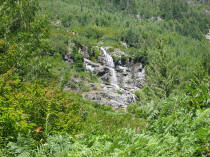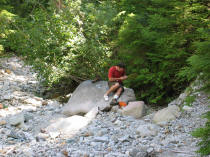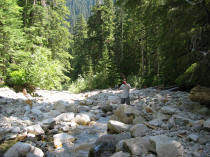 just relaxing and Eric doing a little foot repair
So we lounged around a while, ate lunch, filtered some water and then moved on. Made it to Boundary, on the edge of the park, in about 90 minutes. So we still had plenty of time to relax. One of the 3 sites was already taken, so we decided to try our luck with one of the other two. But again we had no permit to camp here so if someone came up we'd have to move on. We spent a lot of time down by the river staying out of reach of the insects during the afternoon. Then had a little dehydrated food for dinner and waited for the inevitable. And that happened about 7pm. Sure enough someone had a reservation for both of the free sites and we packed up and moved on to Hannegen Camp, no permit required. Fortunately, that was only a little over a mile away. Beautiful scenery approaching sunset the whole way too.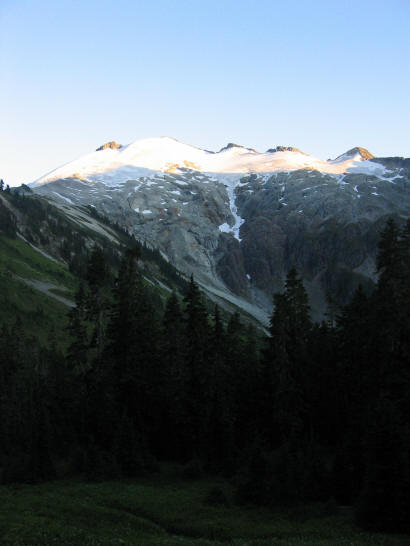 That night we had deer running all through the camp. And we had a short 3.7 mile hike out that morning. We did pass a few people on the trail that morning, probably just starting their adventure, but the North Cascades portion of ours was at its end.
An early morning shot across Ruth Valley.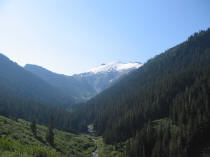 back up the valley to the east
Off the Trail pictures: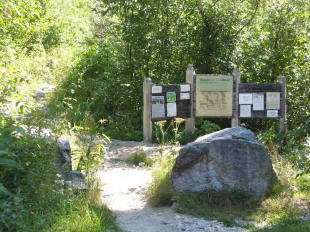 from the road to the trailhead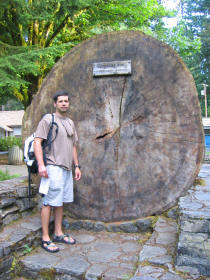 now that is a tourist photo.
Then back to the trailhead, to have a well deserved beer from the trunk of the car. From here we were going to the Ranger/Information station in Glacier, WA to hopefully get some info on Olympic National Park. We talked to two old guys in the parking lot, while enjoying our warm beer & the black flies, that had lived in the area their entire lives and they shared several promising day hike ideas. But we had pretty much convinced ourselves that our destiny forced us to drive across the state to the Olympic Peninsula. We got some ferry info from the tree-huggers at the Forestry Station and set out on a trek to the Pacific Ocean.