MARDI GRAS 2005
It took a few years, but I finally talked my wife into going to New Orleans for Mardi Gras. BTW, she really enjoyed it. We both did. Flights had to be secured, hotel rooms booked and restaurant reservations had to be made before we could sit down and plan what truly religious things we wanted to see before Lent. Like parades, drunks and nudity. In 2005 Lent was to come really early, so we'd be in New Orleans at the beginning of February. High temperatures could easily dip into the 60's, at which point M would need a winter coat and gloves. So there was much planning to be done. I found an OK airfare deal on Delta that would leave RDU pre-dawn and get us to NOLA before lunchtime on Saturday, 2/5. M loves when I schedule something that requires her to wake around 4am, so I booked that, for her sake. The hotel search was gonna be harder, I knew. It went on for weeks. After searching for a deal on a hotel room near Canal St or in the French Quarter, because these were the areas we were familiar with and the areas closest to all of the things that we wanted to see, I found a reasonable rate on a very nice hotel in the FQ, The Bienville House. Their standard rate for the weekend before Fat Tuesday was $250 per night. One night while searching for hotel information I found a partner website for this hotel that had a special rate for all of its hotels for the month of February and they had apparently forgotten to blackout the week of Mardi Gras for the hotels in NOLA. Their screwup worked out well for us. I jumped on their offer for a King Room for $168/night. No real bargain normally, but not too bad for a hotel in the FQ during this week. Then with the money that I had saved from that we looked into dinner options. After much research, M picked Antoine's Restaurant, in the FQ. It was 20 feet from Bourbon St and had been recommended. Then the deal was sealed after seeing a photo of their shrimp remoulade. So we reserved a table there as well. The other meals would be done in a style that M calls, vacationing with Ted. That means that we eat something near whatever we happen to be doing at the time. We found a great sandwich place, Johnny's on St Louis, using this process and had some setbacks. Like when we ate at Krystal on Bourbon St because it had a bathroom. So with that done we could discuss what parades and other events we wanted to see and just wait for February to roll around.
February arrives and we're SO OUTTA HERE!

M during our 2.5 hour layover in Orlando

on site for our first parade on Canal St

even caught an old guy picking his nose, great

finally. rule #1 for Mardi Gras. everything is late. the published schedule is only a suggestion
oooh, first float

some very impressive trouser cleavage at Bubba Gump's

back to the hotel for a bathroom break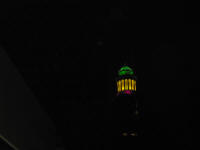 then we went to the opposite side of Canal St and found a good spot to wait

Marisa Tomei rode in this parade. sorry the pic sucks, but that is her float

i think this was Mark's float, it broke down right there & sat there for a long while

Endymion went on for quite a while, it had something like 60 floats.
It was a long first day.