Shining Rock Wilderness - Easter 2007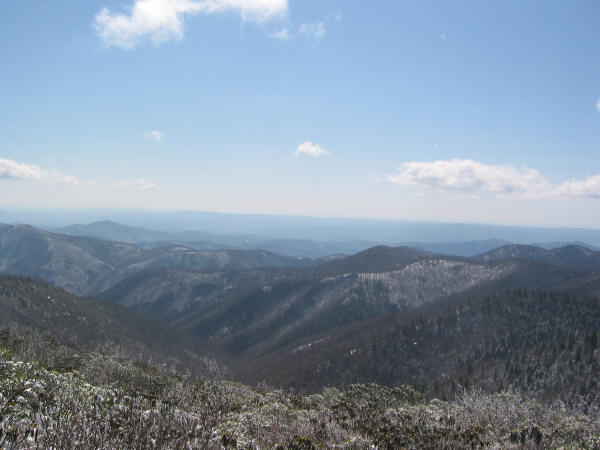 Even with a weather forecast predicting very cold weather, a couple of us decided to go backpacking in Shining Rock Wilderness over Easter weekend. Shining Rock Wilderness is a primitive area with open camping and non-maintained trails and is where Cold Mountain (yes, the Civil War book of the same name) and obviously Shining Rock (a large slab of Quartz) is located.
We drove up on Good Friday and the weather was pretty warm. An SUV followed us into the little parking area stinking of brake burn, loaded with 4 college age guys. While we were getting our gear out of the car these guys start yelling and laughing. When questioned, one of them blurts out that one of their party has just sharted and we notice him waddling down to the water. Probably to clean the crap out of his pants, classic.
So we start our hike and I am not paying enough attention to the trail, which is not maintained or marked, and I lead us off the trail and down a side trail that goes to campsites along the creek. Rather than turn back, we follow these trails and must eventually bushwhack our way back to the 'real' trail and get back to an area where we can camp. Lots of areas exist where it is difficult to follow the trail, so care must be taken.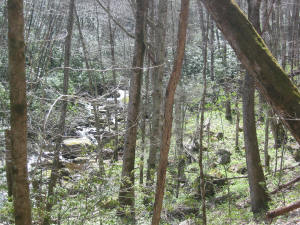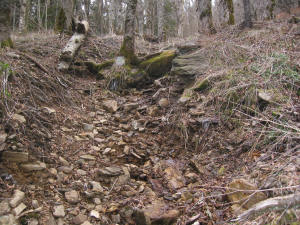 Icicles showing up by midafternoon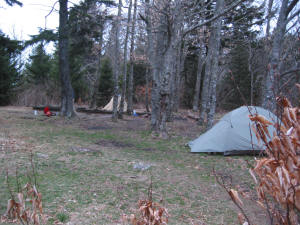 We get to a large area of overused campsites and our buddies have cleaned themselves up and beaten us here and are working on keeping their buzz going. Also, a large group of boy scouts are literally camping on the trail. It is starting to get cold. The weather report we had, said lows in the twenties, cold but bearable. We wish. After eating dinner the temperatures are all ready in the twenties and one of the leaders from the boy scout group tells us that the new forecast is predicting lows in the teens, nearing the annoying side of cold now.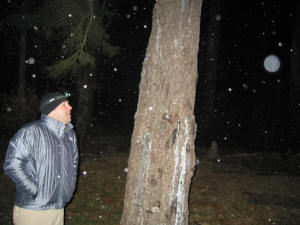 After dark it starts snowing and we wake to a single digit cold. And a few inches of snow on the ground.
We cancel our original plan and decide to day hike to Shining Rock, then return here and eat lunch, before packing up and heading back down the same trail we came in on, in case the snow makes it difficult to locate our trail. And we hope to get a little lower into the valley and maybe camp in less snow tonight. Here are few shots around Shining Rock...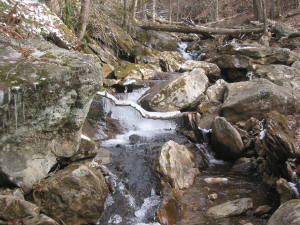 We only had a couple of miles to hike out on Sunday and it was uneventful. This was the coldest camping trip I have ever been on. Everything that contained water froze on Friday night, water bottles in the tent, water filter, pillow drool, everything. I like Shining Rock Wilderness and hope to get back there and see some of the other areas & trails.