Memphis 2007
Beale Street Music Festival
After a few years of missing this festival, we finally got it together and made the trip to Memphis for the celebration. It was worth the trouble, though the drive out and back was something to think about next time. Our original thoughts were that it would be similar to the Jazz Festival in New Orleans, which is going around the same time each year. But to me at least, it was a completely different feel. Certainly on a smaller scale as far as crowds and acreage, but the crowds seemed to be a little more unruly also. Ticket prices to the show were $20 per day, so very reasonable, but the money left over was required for our hotel stay, not such a bargain. But we did stay at a place overlooking Beale St so that the stumble to our room each night would be as short as possible.
The first night, after a 10+ hour drive, we went across the street to Hooters for wings and beer and wandered down Beale St for a while and did nothing but drink a beer or two.
The next morning, you guessed it, Graceland! Very 70's; shag carpet, mirrored ceilings, animal prints, and lots of gold records...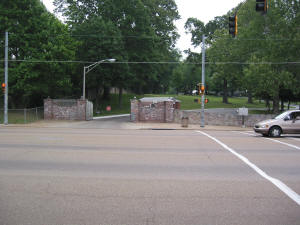 very modest gateway to the house
If it wasn't for everything within ten blocks being named Graceland this or Presley that you could miss it.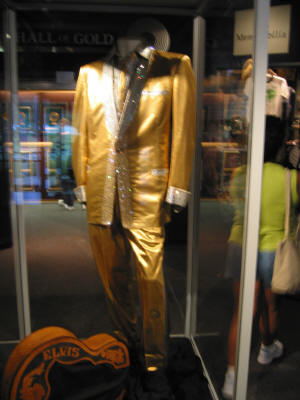 This obviously would look best with the blue suede shoes above
Next, all of Big E's clothes, from fatigues through the movies and into an entire room of jumpsuits.
And for all of us that want to be buried in our backyard, this is for us. Though I'd like something a little more subdued.
... Not done yet... not by a long shot ...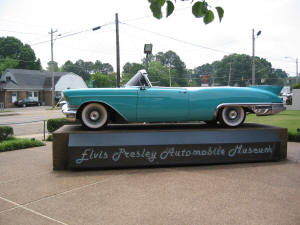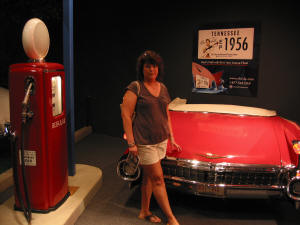 my wife is thrilled to be here
I took two of these and still missed a light in each, nothing Photoshop can't fix I guess.
Graceland was surprisingly interesting. I knew that it would be corny, but it was also overwhelming in many ways and some of them were good things. To see the affect that this place had on people even in this century was worth the ticket price. And I can think of no where else you can find this many fine jumpsuits... period.
From there we had to find Stax Records. The one place that I was unwilling to miss on this trip. This took us through some less than welcoming neighborhoods and made M a little nervous. But she soon went from a little nervous to full-on stressed when we found it and it was surrounded by seemingly abandoned buildings, security fences, unsavory characters, and what looked to be immobile cars. We had to sit in the car for a few moments until she calmed down and calculated if she was likely to make it unharmed from our car to the front of the building, a hundred feet away. There were some obviously unemployed youth lurking around on the street, and for all we knew they needed just two out of towners to complete their nationwide killing spree.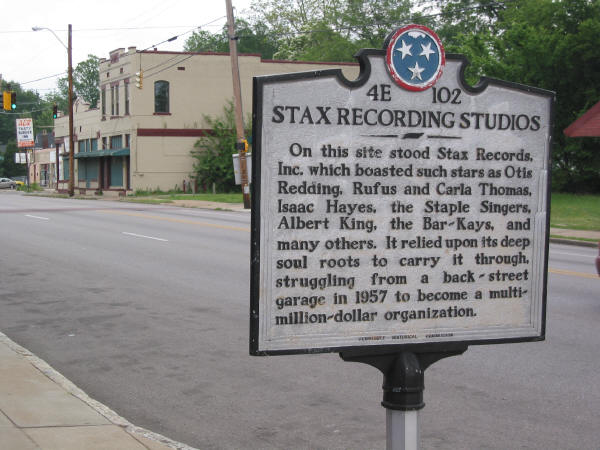 Fortunately we made it in the place unharmed, but unfortunately they do not allow cameras inside. So you get a picture of the men's room wall. I know, I'm classy that way.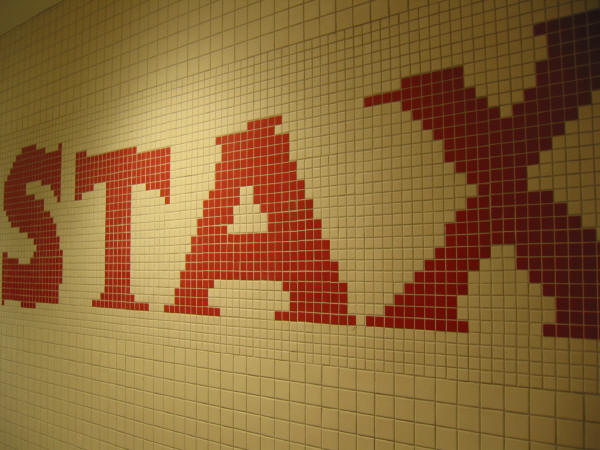 Right across the street was an abandoned building, but with history. Dozens of the artists that hung out at Stax in those days lived within a few blocks of the place.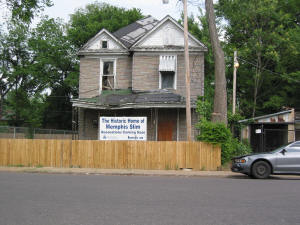 We spent some time in the museum that is on the site now. Sadly, the original buildings including Studio A and the record store are all gone. Isaac Hayes, yes Chef, was there filming an interview for some TV station for the 50th anniversary of Soul in Memphis, and we got to speak to him for a minute. Pretty cool, though he did not seem very healthy, but he joked with M about his gold Cadillac that is there in the museum. Because the motion sensor that surrounds the car wasn't working he told us what it should do when anyone approaches his wheels. "Don't touch my Ride." It was funnier at the time. We bought a few things before leaving and I fired a few hundred rounds of cover so M could get back to the car safely and we both got out of the area without a scratch. We spent the evening dining on bar-b-q and I think we went in BB King's Club this night. But the cool thing is that there is music in all the clubs and even outside some of them during this weekend. And you could get bar-b-q sauce put on almost anything. Then when you add ever-present beer vendors, you have the makings of something that you can truthfully call a festival.
The next afternoon was the beginning of the music festival, so that morning started out with more sightseeing.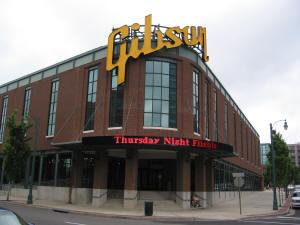 The Gibson guitar factory is right downtown too.
And across the street from that is the Smithsonian's Memphis Rock 'n' Soul Museum. We walked to the museum and went back in time once again. The museum is very interesting but can be pretty heavy because it starts the story in the cotton fields and shacks of the south during the depression and moves forward. The tour includes a lot of educational items as well as great music, two thumbs up. They even planned its location, as it is at the corner of Beale St and Highway 61 "the Blues highway."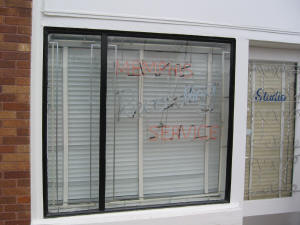 From there we caught a free ride over to Sun Records. Another very cool place, and still a functioning recording studio, officially Memphis Recording Service. But we were more interested in what went on there in the 50's and 60's. And somehow the place has held on to some of the original recording equipment and such. And the diner next door to the original studio is now a great place to get a drink or buy a few hundred dollars worth of Sun merchandise. Nice tour, though very cramped and pretty quick, with our guide really believing/feeling everything he talked about. He had recorded several albums of music there himself, and would surely have sold us one if we had wanted one. And the old studio is still just like it was decades ago, maybe newer light fixtures, but original ceiling tiles (certainly made out of many carcinogens), even an old microphone and an X marking the spot Elvis stood to record "That's All Right." And the room is not more than 30x30 or so, but it just feels like a place great things happened.
M following in Elvis' footsteps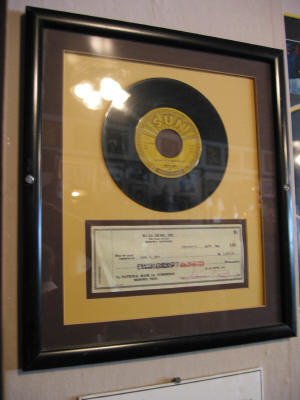 Wow, $2300.
We then went back to Beale St and certainly had a cool beverage, but then walked over to the Lorraine Motel, where Dr ML King Jr was assassinated, and is now the National Civil Rights Museum.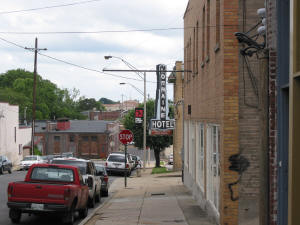 My take on the museum is that it is incredibly well done, especially given the volatile nature of the times and topics that it covers. I was surprised to feel somewhat uncomfortable because I am white, it was odd. But some of the presentations, like the Little Rock school desegregation and Bloody Sunday march with news footage and lots of photos, are surely meant to disturb or at the very least make people very "aware." And the tour climaxes with a view of Dr King's room and more exhibits at the rooming house across the parking lot where James Earl Ray allegedly fired the shot that took King's life. In the end there is much presented about the conspiracy theories surrounding the murder. Some things in the museum will surely dampen your spirits, but the tour is educational without a doubt.
After all this, we walked back to our room and got ourselves ready for the music festival, which is in on the river, at Tom Lee Park. Below is the list of performers for the weekend. Obviously we could not see everyone, but we saw a lot of good shows and some not so good. Because of the age and physical condition of some of the performers plus the shape of Isaac Hayes, I declared this our "Before They Die Music Festival." Because some of these folks looked to be in terrible health, it was sad to see an old Jerry Lee Lewis or Koko Taylor or Bobby Bland when you know what they were about 10 or 20 years ago. But some of the old-timers held their own, Iggy Pop and Ann Peebles both looked like they could still make it to an after party. And some of the younger guys put on good shows, even in the rain, which it did.
Friday, May 4, 2007
The Allman Brothers Band
Iggy & The Stooges
Three 6 Mafia
Koko Taylor
Sum 41
Gov't Mule
Social Distortion
Richard Johnston
Sharde Thomas and The Rising
Star Fife and Drum Band
Robert "Wolfman" Belfour
The Red Jumpsuit Apparatus
Jerry Lee Lewis
Chevelle
Hubert Sumlin & Willie Big Eyes Smith
Plain White T's
The Derek Trucks Band
North Mississippi Allstars
Popa Chubby

Saturday, May 5, 2007
Steely Dan
Godsmack
George Thorogood
Bobby "Blue" Bland
The Bar-Kays
Wolfmother
The Ohio Players
Walter Trout &The Radicals
Kenny Wayne Shephard
Taking Back Sunday
Taj Mahal
Ryan Shaw
Kelley Hunt
Old Crow Medicine Show
Jack's Mannequin
The John Butler Trio
Alvin Youngblood Hart
Eddie Floyd
One Less Reason
The Duhks
Daddy Mack Blues Band
Sunday, May 6, 2007
Counting Crows
John Legend
Hinder
Elvin Bishop
Barenaked Ladies
Corinne Bailey Rae
DAUGHTRY
Tab Benoit
Guster
Edwin McCain
Project Pat
Backdoor Slam
Umphrey's McGee
Ann Peebles
Papa Roach
Watermelon Slim
Billy Lee Riley
Egypt Central
The Lee Boys
James "Super chikan" Johnson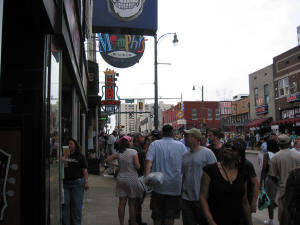 Beale St is getting a little more crowded.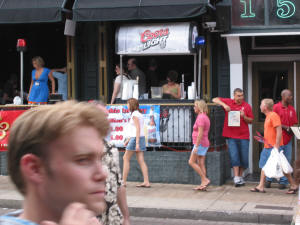 This picture has to be explained. The chick on the left (yeah, the one in the low cut dress) is serving beer from a keg. When someone orders a beer they are at street level so she must bend over to hand them their refreshment, thereby giving them a face full of cleavage, well done. An entrepreneur. And as a matter of fact, I did purchase a beer from her, maybe two. Actually, I think I purchased the show and I got free beer!
A park along Beale St was setup each morning for a few bands to perform. We saw mostly Blues but there was a gospel group there once also. And vendors were there as well, selling t-shirts and jewelry and all the normal trinkets. The clubs along the street had some more well known musical acts in the evenings.
The Hare Krishna's were out as were the cross-dragging Christians. The Christians (carrying signs from some church in Oregon?) were very loud (using bullhorns) and noticeable while the Hare Krishna's danced a little and played little drums and tried to get the drunkest of the young people to not harass them. They had mixed results with that last part. But really, is it a party until the religious guys show up with bullhorns? No.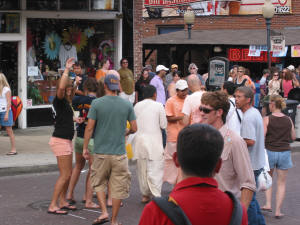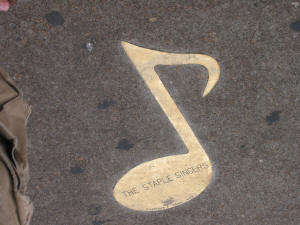 Beale Street decorations - The Staple Singers
Our last day was a very memorable day. We drove into West Memphis, just to drive across the Mississippi River and then down to Tunica to see if the casinos in Mississippi were any different than any where else. Not really, maybe a little more laid back. Then later in the day on back on Beale, a guy tried to sell me pamphlets "to help poor children" from the paper stands on the same block we were walking, and then got angry and cursed me for 30 seconds after I told him that I did not want to buy "free" pamphlets. We saw a very spirited fight start 5 feet in front of us at the festival, when a drunk shirtless guy grabbed a girls butt while she was on some other shirtless guy's shoulders. M got to see Daughtry. So did I, but I was not nearly as impressed as her. Some very sweaty, very hairy, very shirtless guy brushed against M and left residue. She was quite disgusted by it. We saw people lose shoes in foot-deep mud puddles while others laughed at them. Also, learned that people in Memphis really enjoy throwing full beers during outdoor concerts. I've never seen so many large, beer-filled cans getting tossed into a large crowd. And it went on all three days.
It was a long, hot, great day. And then we got to show our ID to policemen just to get "into" a stretch of Beale Street that all of the younger crowd was hanging out. The barricaded street was a strange setup that occurred every night during the weekend. I guess they assume the riff-raff would show up without ID, but plenty of them were there with us each night.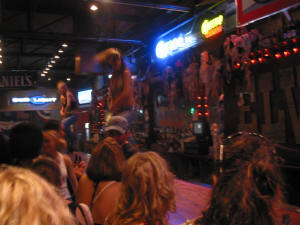 M found her favorite bar while in Memphis too. The Coyote Ugly that is on Beale Street was her fave. On our last night in Memphis, we must have spent far too long there, judging from the way my head felt the next morning. You certainly have not lived until you have heard "The Devil Went Down to Georgia" blasted out of jukebox 5 or 6 times in one evening, while girls in cowboy boots dance on the bar along to the beat. But it was our last night in town, we needed all the Charlie Daniels Band we could get. And we met some cool people while there too. One girl we did not meet was dancing on the bar for 30 minutes showing her crotch before the security guys discovered that she was going commando under her mini skirt and everyone in the place but them was aware of it. Good Times.