After spending a full year trying to talk my dad into taking a vacation with M and me, we gave up and tried to find somewhere we wanted to go in December. We had already scheduled the dates assuming that my dad would finally agree to go with us, so after finally giving up on that trip, we had to fit something into that window and our budget. M really wanted to go back to Las Vegas, so that is where we focused our efforts.
We spent most of our nights at the Imperial Palace. It is certainly no palace, but it was reasonably priced for the time we were there, which was the National Finals Rodeo. That is a very big deal, it went on forever, and ended while we were there. We saw lots of dinner-plate-sized belt buckles, huge hats, and boots made out of exotic animal skins, and some of those in airports before and after Las Vegas. And we spent the last night of our trip at The Venetian, where M wanted to stay. She will be talking about that place for a while.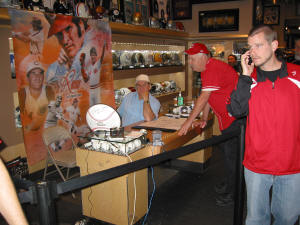 Our first celebrity sighting, and on the first day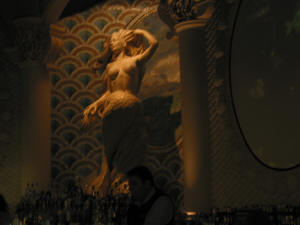 A mermaid in Caesar's Palace and the dickhead bartender!
Our first afternoon we had beers at Planet Hollywood and M found out how much shoe salespeople make in LV. Ask her about it, she'll be glad to tell you. We thought about eating at Mesa Grill but they would not let me in while wearing shorts, so we ended up at a deli. We ate at Mesa Grill at the end of the trip. The deli in Caesar's Palace had sandwiches as big as your head, so we took our leftovers with us to the Valley of Fire State Park the next day. We finished the night with gambling and watching the dealertainers at Imperial Palace.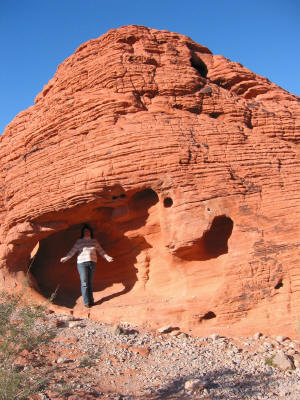 The next morning we drove for about an hour to visit Valley of Fire State Park.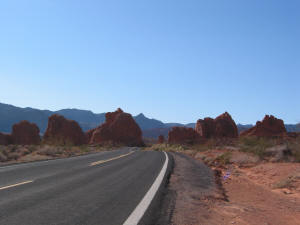 Very cool park. All this red rock in the middle of a lot of gray rock, you can see it on the horizon as you approach. Even M thought this was a good side trip from the lights of Las Vegas. First stop the beehives.
This area had these very nice group camping sites, I think this one is the coolest of the three.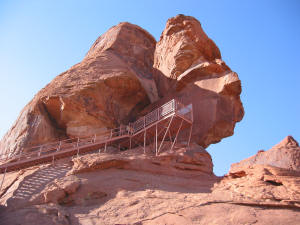 Then we had to climb a few steps to see some petroglyphs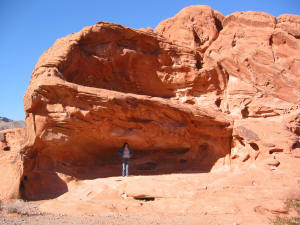 Still a little cool out, M had to find her jacket.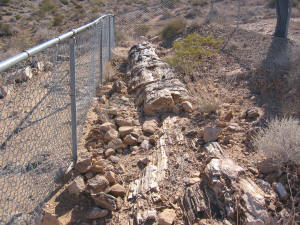 this petrified tree is right across the road from the rocks in the photo below.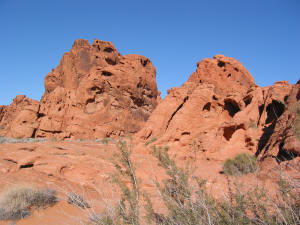 there is scrub and little shrubs and then big red rocks jutting out of the ground a few yards away. very cool.
There are not many amenities in the park for convenience, but there is a visitor's center with restrooms and water fountains. And we have a Reuben and beer, so we are in good shape.
Then to Mouse's Tank, a rock basin that sometimes holds a few hundred gallons of water for months. Very underwhelming, but lots of cool stuff on the trail to it.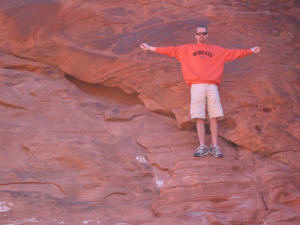 human petroglyph
I know, I got a little carried away with the petroglyphs, but it is my camera.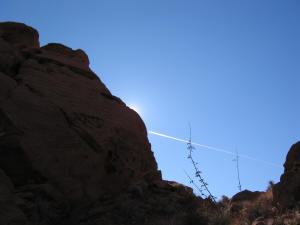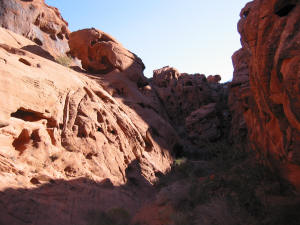 a little break from the rock art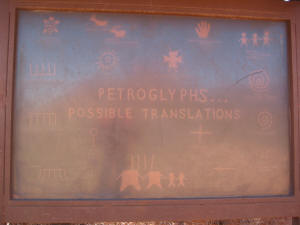 a few guesses at to what the drawings mean. the one in the bottom right corner is strange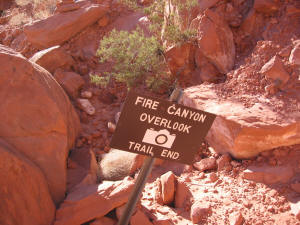 And even a sign to tell you when to turn around and go back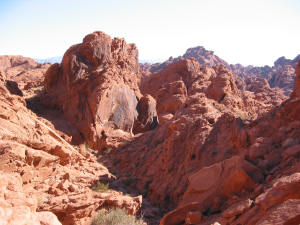 Fire Canyon
The different colors of sandstone are really stunning, especially when the sky is so blue.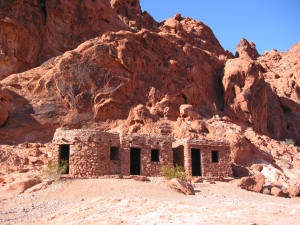 Cabins made of sandstone by the CCC. Can't sleep in them anymore though.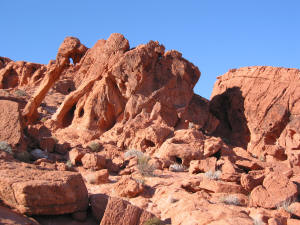 Elephant Rock - the head is to the upper left.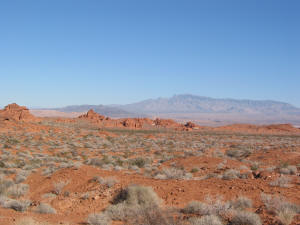 Great park.
After the drive, we went back to the strip and prepared for an evening on the south end of the strip. M decided that she does not like the Coyote Ugly in LV as much as the others. I was surprised that you could have a club with that many people and have no bathrooms, you had to exit and go downstairs to the casino if nature called. And we discovered that the $7 beer is very common around LV. We had some for less $ and some for $, but I think the most common price was $7. We saw more of the free shows this evening too. And the Bellagio fountains even had Christmas music for December. We visited the Hard Rock Hotel, it seemed nice, but a little far off the strip if you plan on spending most of your time there. Sirens at TI was empty of water and probably just as entertaining in that way as it would be if the show was running. Had a short cab ride, where the guy told us about his strung-out stripper girlfriend. Saw go-go dancers in the Flamingo casino, I think. Pretty cool.
The next morning was nice weather and time for a little more walking, shopping, and gambling. M wanted to go inside a few more of the resorts on the strip also. And of course, there was beer to be drunk.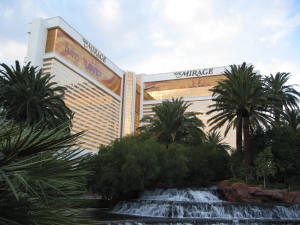 Saw these clowns cleaning glass at the Mirage. It looks like an OSHA "how not to clean windows" picture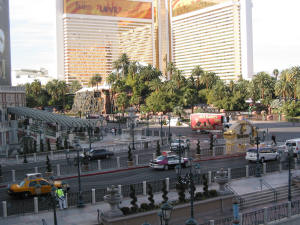 The Mirage across the street. And an advertising truck for escorts out front.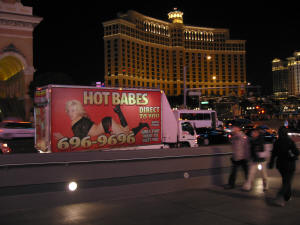 and another in front of Bellagio
The next morning we drove to Death Valley National Park. Those pictures are up next.