San Francisco - Spring 2005
In November American Airlines lowered their price for a roundtrip ticket from RDU to SFO to $144 plus the obvious fees. So M and I decided to go and M even talked her parents into going. I scheduled the trip for May because that was the last month that the low fare was available & the weather would be nice hopefully. We only had 5 days there so I took the earliest flight available, I think it left RDU at 6am. This decision was probably not a popular one but would get us into San Francisco by noon, so to me it was a no-brainer.
American Airlines managed to really screw the flights up but most of the screw ups were on the return flights luckily.
We arrived in San Francisco to find no rental cars available. The reservation that I had was worthless and the choices given to me by the manager after I refused to talk to the hourly help were: a Dodge Neon, a 10 passenger van, or I could wait until a mid-size car is returned, which could be minutes later or hours. So after complaining until they gave me every discount available, we had a shiny new Neon to drive. It was tight getting four people and luggage for 6 people into the car but it went. After a quick stop at our hotel, The Nob Hill Motor Inn, in the Nob Hill part of the city, we found a Thai restaurant, surprisingly called Lemon Grass, and had lunch. Very good and pretty cheap. Next thing was a trip to Chinatown.
The sounds, the smells, the crowds, everything is foreign. It feels like you are in Asia.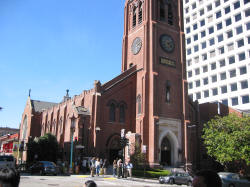 first Roman Catholic Cathedral built on the west coast, Old St Mary's Cathedral
After an ice cream stop, we cut over to Union Square.
There was an Asian festival just ending. But people were still dancing
Union Square is filled with very expensive shopping plus hotels for those tired shoppers to sleep: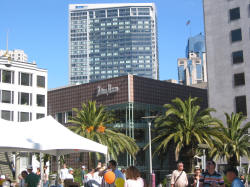 Neiman Marcus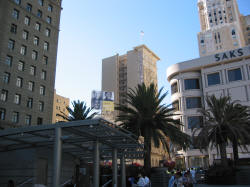 Saks
On the way back to Chinatown, we walked by the Xanadu Gallery. Frank Lloyd Wright's only San Fran building.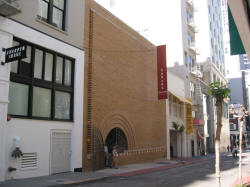 Glass tunnel beyond the arch doorway, then the same spiral ramp design as the Guggenheim Museum in NYC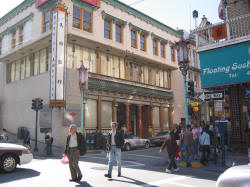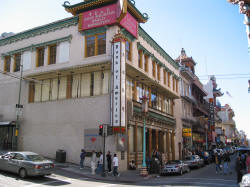 Bank/Monastery... now that is convenience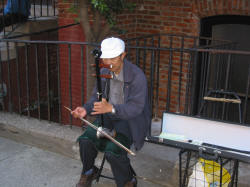 we even had music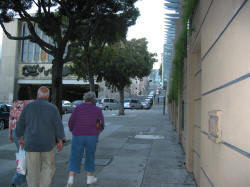 Back to the hotel
We walked several miles on the first day. And there are no flat areas in Chinatown or Nob Hill, so it was a little taxing. On the trip back I decided to skip the tunnel at Broadway that we'd walked earlier and see what the views were like at the top of the hill.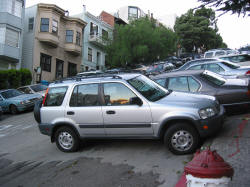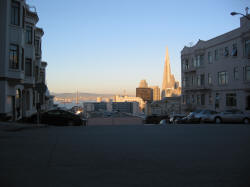 Not bad scenery, but it was steep.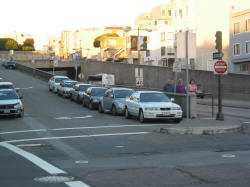 the family exiting the tunnel
Dinner that night was at a very good Tapas place, near Little Italy, called Tavolino.
The next morning started with a walk to Fisherman's Wharf, and stopping by Lombard St, the "crookedest Street," on the way.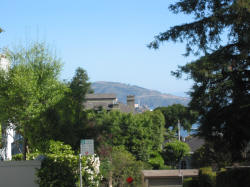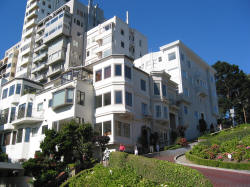 and some expensive real estate on it too.
At Fisherman's Wharf we had to pickup our tickets to Alcatraz. This is something that I really thought would be boring and just a tourist trap place, but I was wrong. It was very interesting. The little tape you rent as your "guide" was great and the plants and birds and buildings make it a good day trip. And you get to ride a ferry twice.
Also, the Prisoners of Age exhibit was there. It was odd, but powerful. http://www.prisonersofage.com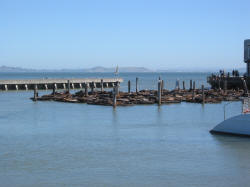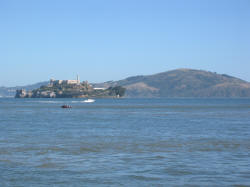 seals on the left and the islands on the right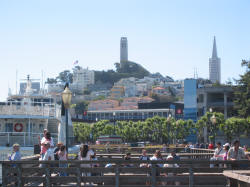 Coit Tower on Telegraph Hill
It was nesting season, feisty western gulls everywhere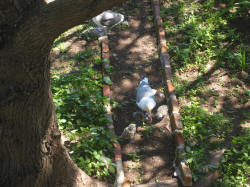 babies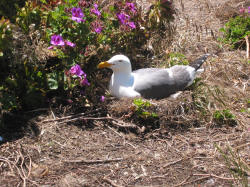 this western gull's nest was inches from the walkway.
The barracks where the cells were was much smaller than I expected.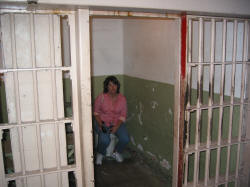 M taking a bathroom break, somebody light a match!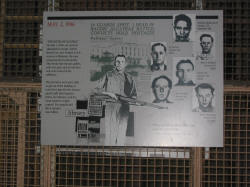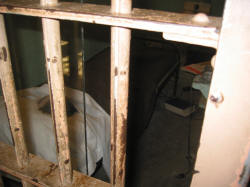 ooh, "Escape From Alcatraz"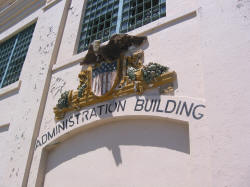 this is where the inmates went to buy souvenirs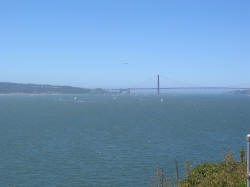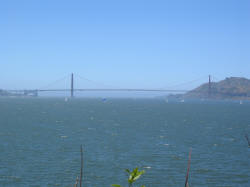 it was a windy Sunday, sailboats everywhere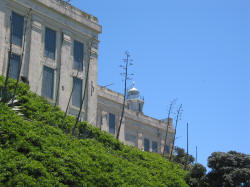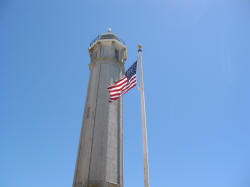 the west coast's first lighthouse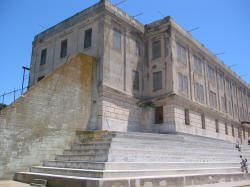 the cellhouse from the recreation yard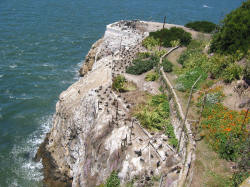 Brandt's Cormorant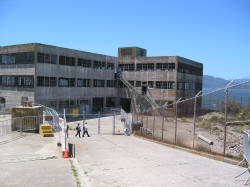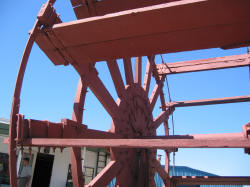 back to the mainland and lunch: crabs, chowder, sour dough... Then over to Hyde Street Pier, for historic ships.
but we're not tourists!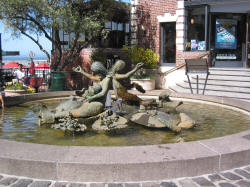 then to Ghirardelli Square for chocolate or ice cream or both
Later was dinner at Dante's Seafood Grill. Very small place, but a good meal. And everyone was too tired to walk the 12 blocks or so back to our hotel, so we waited 30 minutes for a cab. And the one that arrived tried to drag Butch down The Embarcadero by driving off while he was stepping into the car. Idiots! But a free cab ride is hard to get these days, so what is a concussion anyway?
The next day was a trip to Golden Gate Park. Awesome place! Probably the best thing I did on the trip. Due to lack of planning on my part, we went on Monday. The one day that the Conservatory of Flowers is closed.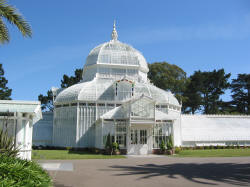 The Conservatory of Flowers
Everything is on this enormous scale here. Everyone knows the trees are huge, but everything seems to be gigantic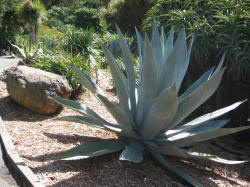 easily 5 ft tall
Then we made a grocery trip and had a picnic in the park, very nice.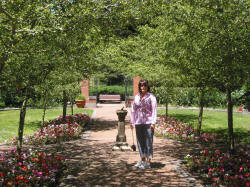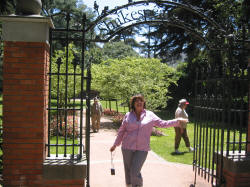 M enjoying the Shakespearean Garden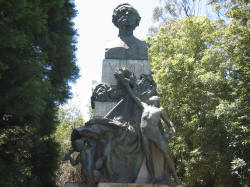 ooh, nekkid art!
then over to the Rose Garden. Normally not a rose person, but this was impressive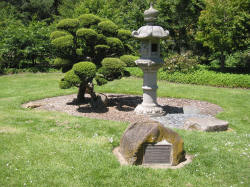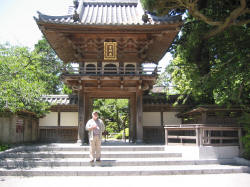 Then over to the Japanese Tea Garden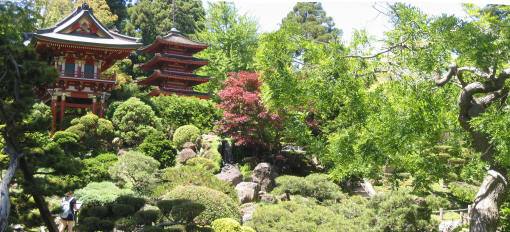 Then to the San Francisco Botanical Garden
After that, it was a trip by the Bison, very sad. Then to the windmills.
Then to the California Palace of the Legion of Honor. Brought about by Alma Spreckels to honor the California soldiers that died in France in WWI. It overlooks San Francisco Bay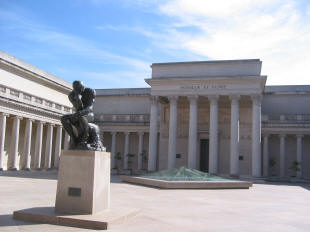 The Thinker, Mrs. Spreckels loved Rodin and donated her collection to the museum.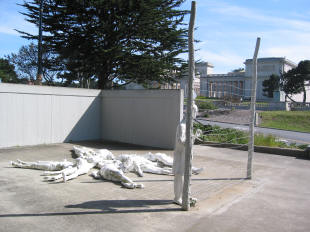 George Segal's The Holocaust. A little chilling. The lone survivor, gripping the barbed-wire fence, is facing The Golden Gate Bridge.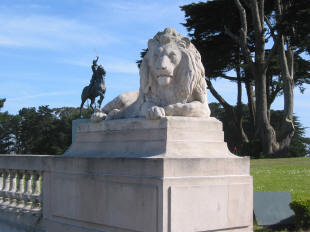 Joan of Arc statue in the background. PS foreground is a lion.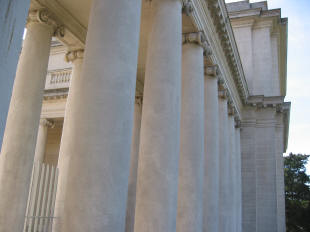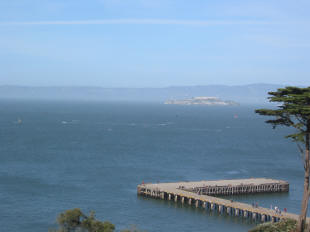 Alcatraz Island and water sports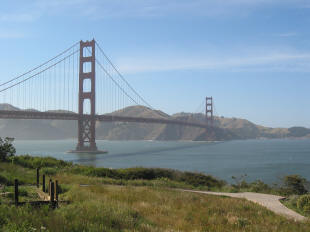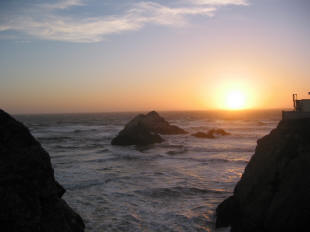 Sunset at Seal Rocks
Ocean Beach, The Cliff House off in the distance and Golden Gate Park to the right

This evening would be dinner at the Cliff House. It was very good. Much better than my visit a few years ago.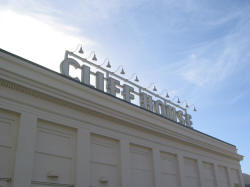 it has been remodeled. I think it lost a lot of its charm, but good food and still a great view of the sunset and right next to a great beach.
Next to the Cliff House are the Sutro Bath ruins

The following day we'd go north to Sonoma County to visit a couple of wineries. The first stop was Jordan Vineyard and Winery. This place was a huge, gorgeous estate. It was so quiet and clean that you would not think any work was done there. Heavily wooded in some areas, then a few olive trees, then an acre of grape vines planted on a hill so they'll get a specific amount of sun. Making wine is like a black art. Just listening to what goes into getting certain flavors from grapes made me dizzy. How some of the barrels are stirred by hand for so many minutes every few days. And there are maybe 200 of these barrels. But they gave us the grand tour, including ahi tuna appetizers and of course the opportunity to taste their olive oil and most recent wine vintages. Our tour was given by Matt Szura and he knew more about winemaking than anyone probably should. Top notch tour and food, and sure, the wine was great too. That was the morning stop, then a quick trip over to Iron Horse Vineyards, a little closer to the water. This place specialized in sparkling wine and was not on the same budget as Jordan, but were just as passionate about what they did there. It was a smaller scale operation and more of a family operation. And I believe that you could have stood there and sampled their wines until you fell over if you'd wanted. If they had it, they would just keep pouring it for you. Here we were able to see 4 people create a finished product. Disgorging the yeast after the fermentation had created the "bubbles". It is a pretty simple process, only a few steps, but each one had to done just so. Our guide here was Andrew and he was so passionate about wine it made you feel uninspired and like you had wasted your life because you had not found a calling that you were so drawn to. Both places were great to visit, hopefully we'll get back some day.
Of course we had to stop on the way back to San Francisco and take more photos.
Dinner was at a small Japanese/Sushi place on Van Ness Avenue. It was very good, though the service was pretty bad.
A very fun trip, though too short. And for M shopping was limited to me buying a bag of cheap souvenirs and chocolate and M somehow getting expensive jewelry. The weather was nice, though it did seem a few degrees warmer when climbing one of those steep hills. The flights were a disaster, flights were delayed, planes were grounded, planes were swapped, bad jokes were told by pilots, but everyone made it home in one piece.