Florida - December 2005
We planned a trip to NYC but a winter storm and the threat of a transit worker strike screwed that up. So 10 hours before we were to leave to drive north I was canceling hotel rooms and trying to find something to do in Florida. M and I decided to go to St Augustine (one of my favorite places) then south on A1A to Key West (one of M's favorites), west on Alligator Alley to Ft Myers & Sanibel Island, then up to Walt Disney World. A lot of driving, but doable. The final mileage number was 2210 miles. That is a lot of car time.
We arrived in St Augustine mid afternoon and set out for the historic area. While there we checked out possibly my favorite restaurant, Columbia. Since they had a wait of over 4 hours we decided to eat elsewhere. Why would you even quote a 4 hour wait, just say we are completely booked. We ate at a place called Tavern on the Bay, I think. It was on the water across from Castillo de San Marcos, where we could watch the Xmas Flotilla. I thought this would be impressive but it sucked. There is no way to sugarcoat it, I was embarrassed for them and upset for the thousands of people that showed up to watch it. Awful! The one in Wilmington is much better, not even comparable.
After dinner and a few beers we went to the mall, 'cause we don't have those in NC. We do not have as many surgically altered boobs in NC probably, jeez.
Sunday we hit the road early and drove down A1A through Cocoa Beach and down to Vero Beach, then back west onto I-95. Vero Beach was nice but probably very expensive, judging from the number of German automobiles we saw. The areas north of there looked more like typical retirement villages but with work-a-day folks living there also. We took I-95 to Miami and then jumped on US1 or rather slowly rolled onto US1. We did not get the memo about everyone in southern Florida going Xmas shopping that day, but we figured it out. We spent a few hours trying to get around the shopping bag filled minivans and convertibles that had the streets in gridlock while trying to turn into shopping malls. Who knew every mall in Miami is on US1? Eventually we made it to Key Largo and started seeing some of the evidence from this year's hurricane season. By the time we made it to Marathon we had seen tons of debris piled up on the sides of the highway. And I think the storm took a lot of its fury out on the wooden pallet industry. There were thousands of them everywhere. And you could get I survived hurricane Wilma t-shirts for $5, a steal. Most of the debris was still piled along the roadway, but some people had already started replacing the large trees that were now beside the road. We drove past a lot of RVs, this was the last day of Fantasy Fest, because it was moved to December when the hurricane season crashed the party normally held in October. We arrived at The Merlin Guesthouse on Simonton St in the afternoon and they have no parking so we drove around the block, and around it again and again, until I finally dropped M off at the door then went and parked 5-6 blocks away and just walked. The inn was OK, but the walls were paper thin and the beds were not that great. They had breakfast in the mornings and free drinks in the evening but we only tried the breakfast. It was not bad. But the key amenity here was it was one block off Duvall St, so we could easily stumble home later.
We saw all the normal stuff; drunks, chickens, retirees, homosexuals, homeless, wealthy, rednecks. And because it was the last day of the hurricane-displaced Fantasy Fest, there were more oddities then normal in December, probably. After a trip down Duvall, it was too late to catch the traditional festivities at sunset, so we headed to a bar. Irish Kevin's seems to be one of the more lively places on Duvall St. There always seems to be some type of interesting entertainment there, plus waitresses with many tattoos and piercings. And that can be entertainment enough combined with cold beer. And we were able to see a homeless lady start a fight with 2 guys by screaming "fucking faggots" at them on the sidewalk. And one of the guys was deaf, so it was an argument out of the Twilight Zone. Then the dirty little lady walked away and started harassing other guy couples. I think this was the same night M observed a very expensively-dressed man urinate on the sidewalk beside Duvall St also. Good times...
chicks living near our hotel
A few random photos
lighthouse pics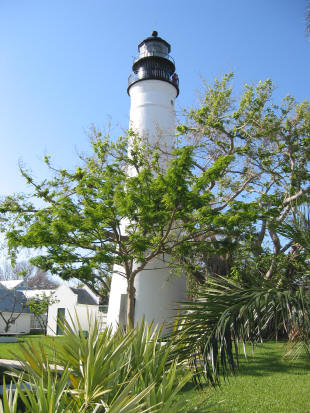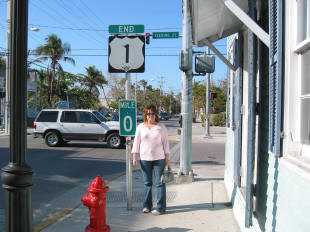 of course, sunset pics from the pier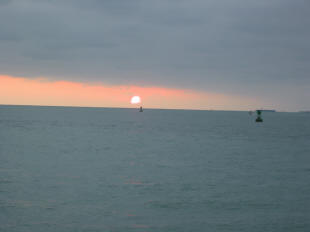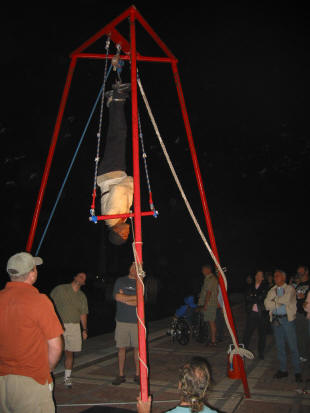 and the street performers
And because I did not get my paella fix at Columbia restaurant in St Augustine, we decided to have dinner at a Cuban place by the pier called El Meson de Pepe. Here we had paella a la pepe (for 2) and it was awesome. A shame that we could not eat half of it. There must have been 3-4 pounds of food, and it required a 45 minute prep time, but it was worth it. Their black bean soup was also very good. The decor is pretty cool also, and I saw most of it while waiting for my dinner. Did I mention that the Paella was great.
We spent a couple of days in the Keys and then drove back to the mainland and across Alligator Alley to the gulf side of Florida. I think Michelle lost count of how many alligators she saw lying beside the road after a few dozen. We went to Ft Myers and then over to what we really wanted to see - Sanibel and Captiva Island.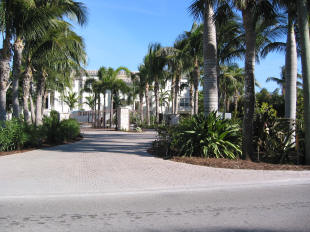 this little cottage was available for purchase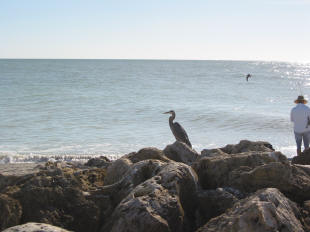 The next stop on the trip was Disney World. We drove through a lot of orange groves to get there. We stayed at the World Dolphin after finding a great rate on a room for a couple of nights. Very nice place, overlooking EPCOT.
Went to EPCOT early - it was just a few hundred yards from the hotel. Surprisingly empty for the first couple of hours we were there. Notice some of the pics show no one in the shots at all. They were predicting rain today, but we never saw it.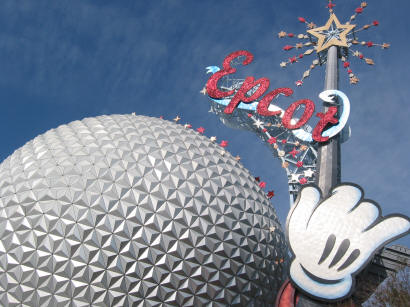 I love this pic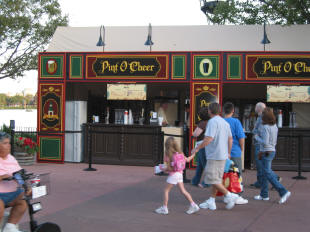 ah, the Pint-O-Cheer, bought my first beer of the day here - Good Memories
We ate dinner that night at the Italian place, L'Originale Alfredo di Roma. It was fun, but the food quality has gone waaay down since our last trip in there. Even bought a few Xmas presents that evening.
The next morning we were off to Islands of Adventure.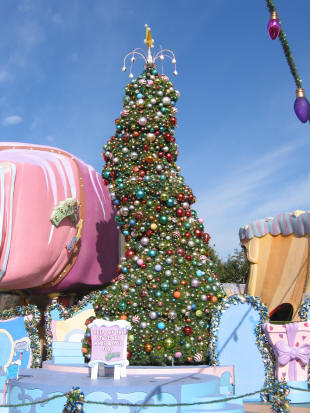 Dr Seuss' Xmas tree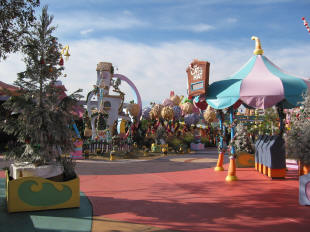 again, no crowds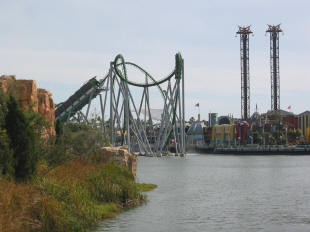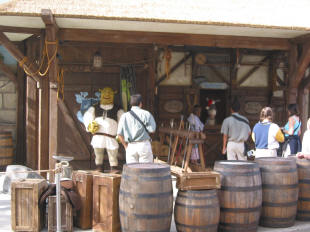 Shrek and Donkey, The Grinch was out spreading Xmas cheer also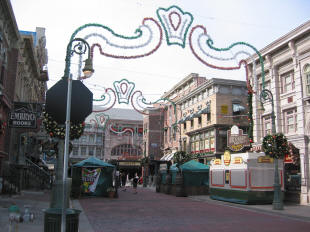 and we still managed to see NYC!
There was a Macy's Xmas parade here also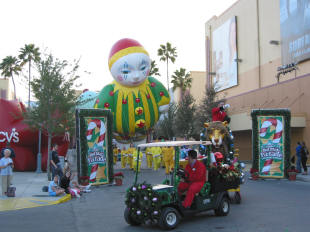 It was very funny watching the Florida winds drag these people around behind the balloons. Just the look on their faces when they realized they were not in control - Great!
And they do have some really fun roller coasters here, plus the Spiderman attraction. We went to The Bob Marley cafe in CityWalk after leaving the park. It was nice, cold beer and a little reggae. I had to ask the 2 people there if they were open though because the whole place was that empty. The barkeep was from Virginia and fit in perfectly with what was becoming a theme on our trip in Florida. She had enormous boobs also. And being a bartender, she knew exactly how to put them on display for maximum effect. Some guy came in, sat beside us and talked on his phone for 30 minutes, then left. But he did have a Super Bowl ring on. Then a group of yuppies-on-the-town came in and proceeded to talk about themselves loud enough for everyone to hear and understand how important they were. And then it got a little weirder, 2 little people (midgets) came in dressed as elves. Universal Studios apparently pays these people to walk around during the holidays and spread cheer. Seems awfully non-PC for a theme park to me, but whatever pays the bills. And the lady "elf" was adorable, she looked like a little elf doll, my wife and the bartender giggled the entire time they were in the bar. The male "elf" (they travel in pairs) talked just like the mayor in The Wizard of OZ, weird. Dinner that night was at the ESPN restaurant near our hotel. The food was surprisingly good. It was funny watching the people at the bar go outside every so often to smoke though. So it was almost like a real sports bar, only Disney was not bending on the "no smoking" rule.
The next morning we drove home. Almost 700 miles to get to the kennel and pick up Buster in under 9 hours. The little Honda still has a little something left in her afterall.
It was a nice vacation. A lot of driving, but we were able to see a lot of Florida too. It would have been nice to see NYC decorated for Christmas, but not under eighteen inches of sleet & snow. And I could not imagine being stranded in an ice storm on the Jersey Turnpike, without a lot of medication. And only a couple of weeks until we drive to Atlanta for New Year's Eve and the Panthers v Falcons game.